Die Höhle, wo der Tod nie war.
La grotte, o

ù

la mort n'a jamais été.
English
Deutsch
Français
Then I said to myself, "The fate of the fool will overtake me also.
What then do I gain by being wise? I said to myself, "This too is meaningless."
For the wise, like the fool, will not be long remembered; the days have already come when both have been forgotten.
Like the fool, the wise too must die!"
Kohelet.
Da sprach ich in meinem Herzen: "Wenn mir doch das gleiche Geschick widerfährt wie dem Toren, warum bin ich denn so überaus weise geworden? Und ich sprach in meinem Herzen: "Auch das ist nichtig!" Denn dem Weisen wird ebensowenig wie dem Toren ein ewiges Andenken zuteil, weil in den künftigen Tagen längst alles vergessen sein wird. Und wie stirbt doch der Weise samt dem Toren dahin!
Kohelet.
Et j'ai dit en mon coeur: J'aurai le même sort que l'insensé; pourquoi donc ai-je été plus sage? Et j'ai dit en mon coeur que c'est encore là une vanité.
Car la mémoire du sage n'est pas plus éternelle que celle de l'insensé, puisque déjà les jours qui suivent, tout est oublié. Eh quoi! le sage meurt aussi bien que l'insensé!
Kohelet.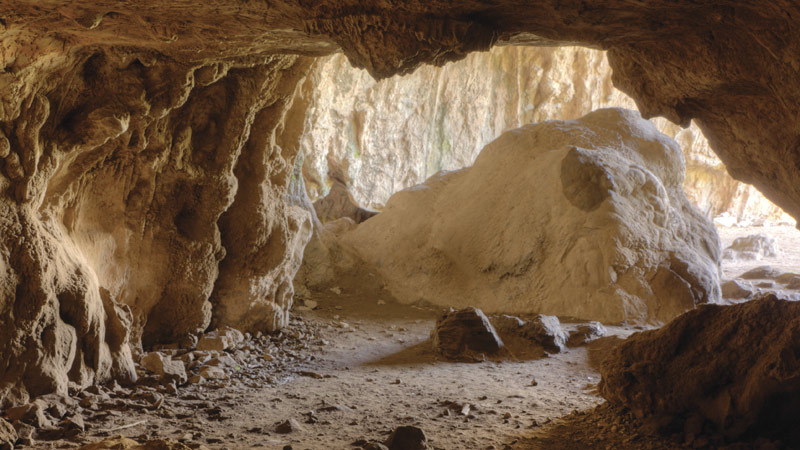 Raymond saw that the whole cave of Saint Barbe, by the village of Falck in Lorraine, was shaken.
Raimund sah, dass die ganze Höhle der Heiligen Barbe beim Dorf Falck in Lothringen erschüttert wurde.
Raymond vit que toute la grotte de Sainte-Barbe, près du village de Falck en Lorraine, où il se trouvait avait été ébranlée.
He looked at the apparition which was glaring at him in a way no mortal mind could have ever interpreted.
Er schaute auf die Erscheinung, die auf ihn auf eine Weise blickte, die kein sterblicher Geist hätte je deuten können.
Il observa l'apparition qui lui lançait un regard qu'aucun esprit mortel n'aurait jamais été en mesure d'interpréter.
"If you truly seek salvation, you won't fail to heed my words and lay down the weapons you've deceptively acquired", the otherworldly creature said.
"Wenn du wirklich das Heil suchst, wirst du ganz bestimmt meine Wörter beachten und die Waffen fallen lassen, die du dir auf eine betrügerische Weise angeeignet hast", sagte die Kreatur aus einer anderen Welt.
"Si tu cherches vraiment le Salut, tu ne manqueras pas de prêter attention à mes paroles et tu laisseras tomber les armes que tu as acquises à travers ta tromperie", dit la créature d'un autre monde.
"What are you talking about?", he answered in a defying tone while swinging his sword.
"Wovon redest Du denn?" antwortete er mit herausfordernder Stimme, während er sein Schwert schwang.
"Mais de quoi parles tu ?", repondit-il avec une voix de défi tout en brandissant son épée.
A sound vaguely resembling a laughter resounded in the cave.
Ein Geräusch, das etwa an ein Gelächter erinnerte schallte in der Höhle wider.
Un son ressemblant vaguement à un rire résonna dans la cave.
"I know you aren't quite satisfied with the fate which awaits every creature of your kind."
"Ich weiss, dass Du nicht ganz mit dem Schicksal zufrieden bist, das jedes Geschöpf deiner Art erwartet.
« Je sais que tu n'es pas tout à fait satisfait du destin qui attend toute les créatures de ton espèce. »
You know, the thing you call…Ah, what's the word? Death?
Ich meine…das Ding, das ihr so nennt…Ach, was ist das Wort? Tod?
Je veux dire…cette chose que vous appelez…Ah, quel est le mot? Mort ?"
All your feelings, desires, dreams, longings and noblest achievements will inexorably trail off into space one day, am I correct?", the unknown being replied.
All Deine Gefühle, Wünsche, Träume, Sehnsüchte und edelsten Errungenschaften werden sich eines Tages unausweichlich in die Luft auflösen, nicht wahr?", erwiderte das unbekannte Wesen.
Tous tes sentiments, désirs, rêves, soupirs et tes accomplissements les plus nobles disparaîtront un jour inexorablement, n'est-ce pas?" répliqua l'être inconnu.
He sighed.
Er seuftzte.
Il soupira.
"Yes."
"Ja".
"Oui."
"I am aware you would do anything you could to quench your thirst for immortality", the thing added.
"Ich bin mir bewusst, dass du alles mögliches tun würdest, um deinen Durst nach Unsterblichkeit zu stillen" fügte das Ding hinzu.
"Je suis conscient que tu ferais tout ce que tu pourrais pour combler ta soif d'immortalité", ajouta la chose.
"Indeed. How could I not? My own life is what matters most to me", he answered while whispering, fearful of being heard by other sons of man.
"In der Tat. Wie könnte es anders sein? Mein eigenes Leben ist das, was mir am Wichtigsten ist", antwortete er mit einer flüsternden Stimme, da er befürchtete, von anderen Menschensöhnen gehört zu werden.
"En effet. Comment pourrait-il en être autrement? Ma propre vie est ce qu'il y a de plus important pour moi", répondit-il en chuchotant, craignant d'être entendu par d'autres fils de l'homme.
This time he unmistakably heard the creature laugh in a shrill voice.
Dieses Mal nahm er das schrille Lachen der Kreatur auf eine unverkennbare Weise wahr.
Cette fois-ci, il perçut nettement le rire strident de la créature.
"My master wasn't wrong about you.
Mein Meister hat sich nicht über dich geirrt.
Mon maître ne s'est pas trompé sur ton compte.
If you show us unconditional obedience, we shall grant you the deepest wish of your fragile heart.
Wenn du uns bedingungslos gehorchst, werden wir den tiefsten Wunsch deines zerbrechlichen Herzes erfüllen.
Si tu te soumets à nous sans conditions, nous exaucerons le souhait le plus profond de ton coeur fragile.
If you slaughter all our enemies in the tainted city of Gehenna, we shall save your soul from the eternal unconscious slumber in the colourless valley of Sheol it is currently heading to."
Wenn du all unsere Feinde in der befleckten Stadt Gehenna schlachtest, werden wir ganz bestimmt deine Seele vor dem ewigen bewusstlosen Schlaf im farbenlosen Tal von Scheol retten, wonach sie sich gerade  richtet."
Si tu massacres tous nos ennemis dans la ville souillée de Géhenne, nous sauverons ton âme de l'éternel sommeil inconscient dans la vallée de Shéol, depourvue de couleurs, vers laquelle elle se dirige."
He wanted to ask for more details, but the being disappeared instantaneously in a blur of reddish mist.
Er wollte ihn nach mehr Einzelheiten fragen, aber dann verschwand das Wesen augenblicklich in einem Wirbel rötlichen Nebels.
Il voulut lui demander plus de détails, mais l'être disparut instantanément dans un tourbillon de brouillard rougeâtre.
It didn't take long before he decided to completely surrender his own heart to darkness.
Es dauerte nicht lange, bevor er sich entschloss, sein eigenes Herz der Dunkelheit völlig zu übergeben.
Cela ne dura pas longtemps jusqu'à ce qu'il décidât de soumettre complètement son propre coeur aux ténèbres.
Thematic list of ALL posts on this blog (regularly updated)
My other blog on Unidentified Aerial Phenomena (UAP)